Hello Friends! Happy Spring! 
In about two weeks it will be the official April 05th release of our new album, 'of Water + Mercy'! We are super excited for you to hear it! We will begin shipping out campaign CDs, shirts & other items first thing next week so please keep an eye on your mailboxes! The Vinyl will not start shipping until April. 
The 3rd single 'Burning Church' is out TODAY and is available on all streaming & download services including Spotify, AppleMusic, ITunes & more. The song features Moksha & JW along with Dan Walters on bass, Chuck Mauk on drums, Charlie Lowell (Jars of Clay) on synths & piano, Grace Mauk on organ, Matt Nelson & Avery Bright on string arrangements along with Angel Snow, Molly Marin Dan Haseltine & Matthew Odmark (last two also from Jars!) on gang vocals. 
You can listen here: 
http://smarturl.it/hudostburningchurch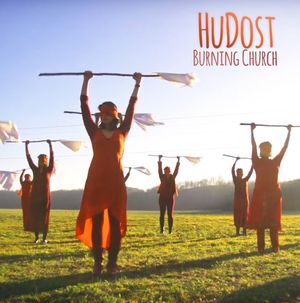 The video for 'Burning Church' will arrive next week and we'll send you an update about that as well. 
We hope you enjoy the new song and encourage you to take a look at our spring tour dates (below). If you want to see a longer list of dates that includes our exciting summer dates you can see it HERE. We look forward to seeing you all in the coming months! Just please note that dates keep being added...so keep an eye out! 
In case you've been in a winter hibernation and missed them, we've released two other singles from the album prior to the new one. Here are 'Rise Together' (with Jars of Clay) and 'The River Lost' (with video shot at Blue Springs in Florida): 
http://smarturl.it/risetogethersingle 
http://smarturl.it/hudostriverlost